As manufacturers increase their digital capabilities, technology IoT devices help with equipment management and operations analytics, boosting efficiency, productivity and visibility. As manufacturing companies integrate more and more technology into their operations, they should aim to implement best practices for IT infrastructure security.
In doing so, manufacturers can reduce the risk of cyberattacks and other security breaches, like rogue employees accessing data that should be kept confidential. Moreover, implementing best practices for IT infrastructure security can help manufacturers keep their facilities running smoothly by reducing the risk of network failures, increasing mobile capabilities among employees and more.
Specifically, manufacturers should implement the following best practices for IT infrastructure security:
1. Assess Native Security Capabilities of Network Infrastructure:

Rather than looking for the lowest-cost network infrastructure devices, be sure to assess the security capabilities of these devices too. For example, Cisco Meraki switches, access points and other devices can all be set up and monitored through a secure dashboard, where you can set access policies, analyze network activity and more.
2. Implement Cybersecurity Monitoring/Response Tools:

In addition to the built-in capabilities of their existing network infrastructure, many manufacturers benefit from adding additional tools to block and respond to cybersecurity attacks. These tools are particularly useful for organizations with a variety of entry points into their network, such as employees who access networks remotely through mobile devices.
For example, Cisco Umbrella provides cloud-based protection across your organization by combining different types of protection, including DNS-level security and cloud access security broker (CASB) capabilities.
Best practices for IT infrastructure security should also include preventing phishing attacks, which companies like Proofpoint can help with through tools that analyze email.
3. Keep Systems/Devices Up to Date:
Although keeping systems and devices up to date may seem relatively easy to do, many organizations slip up and expose themselves to unnecessary risk. By not updating systems when new versions and security patches are released, manufacturers could leave a gaping hole in their security defenses.
Instead, as a best practice for IT infrastructure security, manufacturers should implement updates as soon as they become available. Many providers offer automatic updates to make this process easier.
In some cases, companies also need to replace devices with newer models that have security features designed to meet modern threats. However, this type of update requires more of a judgment call. Working with a managed service provider can help you determine whether you need to update devices and implement processes for keeping systems updated.
4. Integrate Physical Security and Cybersecurity:
Best practices for IT infrastructure security also include finding ways to integrate physical security and cybersecurity, such as using security cameras to help reduce the risk of IT equipment theft.
Cisco Meraki security cameras, for example, can be a good option for manufacturers, as the MV72 model has IK10+ impact resistance, so it can hold up in industrial conditions. These cameras also integrate with other Meraki devices through a secure dashboard, making it easy to set access policies and implement updates across your IT infrastructure.
5. Educate Employees:
Lastly, as a best practice for IT infrastructure security, manufacturers should take the time to educate employees about security risks and inform them about how they can do their part to reduce risk. For example, educating employees about what to look for in phishing emails can help prevent these attacks. Triden offers security awareness training to help employees recognize and react appropriately to phishing emails and other attacks.
By following these best practices for IT infrastructure security, manufacturers can reduce the risk of cyberattacks and create a more efficient operating environment. Partnering with a managed services provider can make it easier to implement these ideas.
Visit our IT Infrastructure Services page to learn more about how we help manufacturers design their IT infrastructure. Contact us to learn more.
Interested in learning how Triden Group can help you with security. Download our "Security Made Simple" Guide.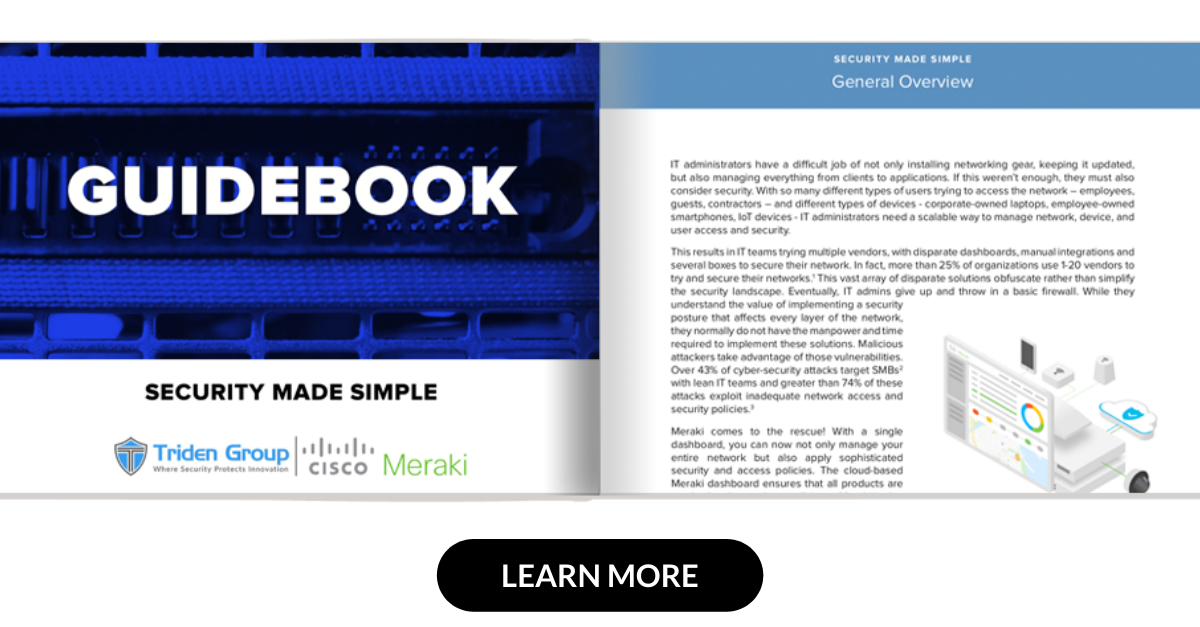 Share This Article!