As organizations adopt new technologies to increase productivity and reduce costs, it is important to analyze the users' network. Cisco Meraki offers cloud-managed IT solutions designed to work together to help deliver a modern network that is powerful, reliable, and easy to manage.
Cisco Meraki Products
MX Series
The MX series is a collection of multi-functional security and SD-WAN enterprise appliances with an extensive set of capabilities to address multiple use cases – from an all-in-one device.
The MX is 100% cloud-managed, making it ideal for distributed branches, campuses, and data center locations. Natively integrated with a comprehensive suite of secure network and assurance capabilities, the MX eliminates the need for multiple appliances.
MR Series
The MR series is the world's first enterprise-grade line of cloud-managed WLAN access points. It comes equipped with industry-leading features that make them ideal for demanding enterprise deployments:
Self-configuring, plug-and-play deployment
Integrated enterprise security and guest access
Dedicated radio for security and RF optimization with integrated spectrum analysis (indoor models)
Integrated intrusion detection and prevention system
Self-learning application-aware traffic analytics engine
Flexible group policy engine for creating and applying application-aware policies by network, device-type, and end-user
Self-healing, zero-configuration mesh
Role-based administration and automatic, scheduled firmware upgrades delivered over the web
E-mail and text message alerts upon power loss, downtime, or configuration changes
MS Series 
Cisco Meraki offers a broad range of easy to manage switches. Meraki access and aggregation switches are all controlled through an elegant, intuitive cloud interface, allowing administrators to spend less time on configuration and more time on meeting business needs.
A powerful centralized management interface gives administrators deep visibility into the network and how it is used. The Meraki dashboard provides unified policies, event logs, and monitoring, making it easy to manage network deployments without sacrifice.
MV Series
The MV series contains a smart camera family that brings simplicity and intelligence to the security camera world. Each MV series model comes with a powerful processor that minimizes physical infrastructure and software requirements.
These smart cameras not only help ensure physical safety and security but also provide advanced business intelligence.
Meraki Insight
As the use of mobile apps and other services grows, so does the dependency on each individual step of the solution journey, from the application server to the desktop or mobile device.
Meraki Insight was developed to provide end-to-end visibility on how end-users experience the network. It does this by taking a more holistic view of the factors contributing to the end user's perception of performance.
Systems Manager
Systems Manager supports a variety of platforms allowing companies to choose what they truly need out of a solution. Systems Manager offers centralized, cloud-based tools for endpoint management with unmatched scalability options for growing organizations. It features an easy-to-use web-based dashboard that allows organizations to quickly manage distributed deployments from any given location. Meraki Systems Manager also offers a number of capabilities for endpoint management for the provisioning, monitoring and securing of end devices.
Advantages to Cloud-Managed IT Through Meraki

Simplify network management
Meraki offers a network-as-a-service management solution as part of the products and architecture. While each product functions independently, if an organization has multiple Meraki products deployed, its network becomes more integrated. Administrators using Meraki can build on this basic principle to manage and configure the entire organization without ever leaving the dashboard.
End-to-end visibility
As organizations grow, IT departments face new challenges as they acquire additional users in new locations while also maintaining performance and keeping costs down. Visibility with Meraki allows users to view where a client is currently connected, whether it's an access point, switch, security appliance or even spanning outside the corporate network with Systems Manager. With multiple Meraki products installed, administrators can trace the path a specific user takes through the entire network.
Streamline configuration and eliminate errors
With a Meraki network, setting features becomes straightforward. Meraki allows organizations to leverage the cloud to construct configurations to network elements simultaneously, from the access points and switches to the network gateway.
The Meraki Dashboard allows organizations to define policies capable of spanning the complete Meraki network. Group policy determines which applications and services a particular user or group has access to and can be automatically applied to different users and devices.
Improve network reliability
Over time, organizations have built their monitoring solutions, scripts, and troubleshooting systems to stay efficient and proactive. Capabilities such as reporting, alerting and logging are crucial to any enterprise network since they are the organization's first line of defense and inform IT error occurs.
All Meraki products include monitoring and logging tools that are built directly into the Dashboard. Meraki products double as distributed monitoring nodes and provide real-time performance information on the network.
Troubleshoot with the full stack
If a Meraki device happens to lose connectivity or an organization's internet service is disrupted, an alert will be sent to inform the IT admin that something is wrong. Once an error has been detected, the IT admin can respond from any location so long as they have an internet connection or use each device's local status page. When the issue is detected, all information is presented in a clear, easy-to-understand document that the admin can share with the rest of their team.
Enhance security
With network visibility, Meraki products provide powerful, pre-built security capabilities that are designed to seamlessly integrate. One example of this is network authentication through System Manager Sentry. This technology uses Meraki Systems Manager, Cisco's Enterprise Mobility Management solution, to quickly and secure users across the entire network.
In the event that a device tries to connect, the network will be verified through the Systems Manager software solution. Systems Manager acts as an authenticator, only permitting those who are allowed on the network.
For more information on the power of Merki, download the Security Made Simple playbook.
Triden Group is an Authorized Meraki Partner. Contact the experts at Triden Group to learn more about Cisco Meraki.
Learn more about how Meraki integrates security into its products and ecosystem in our Meraki security playbook.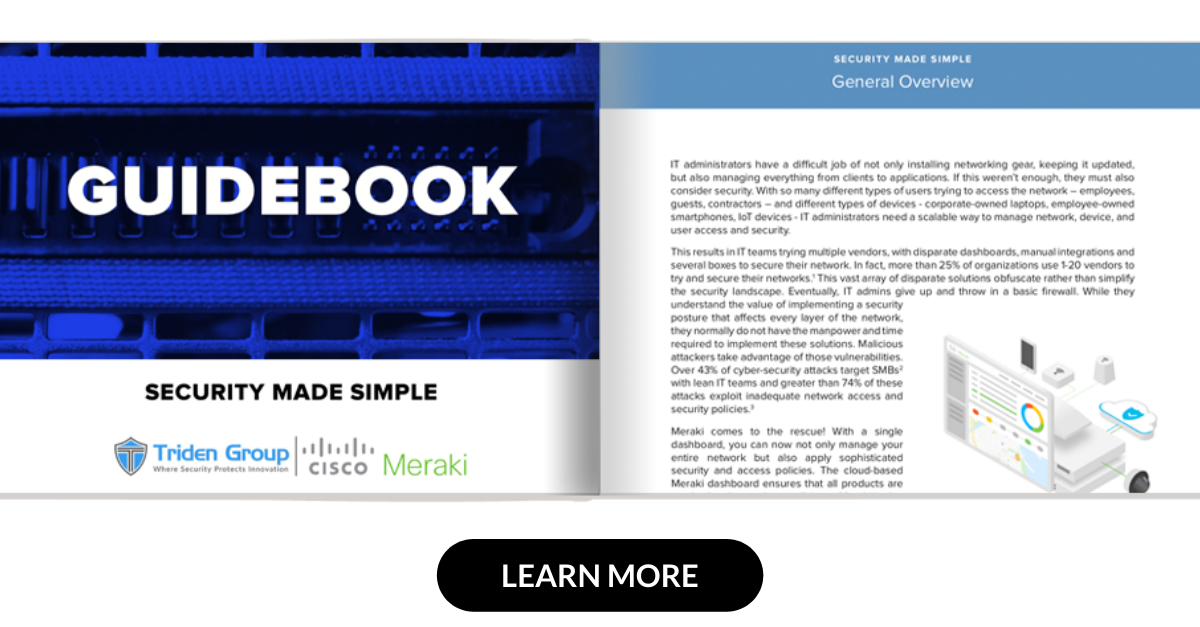 Share This Article!